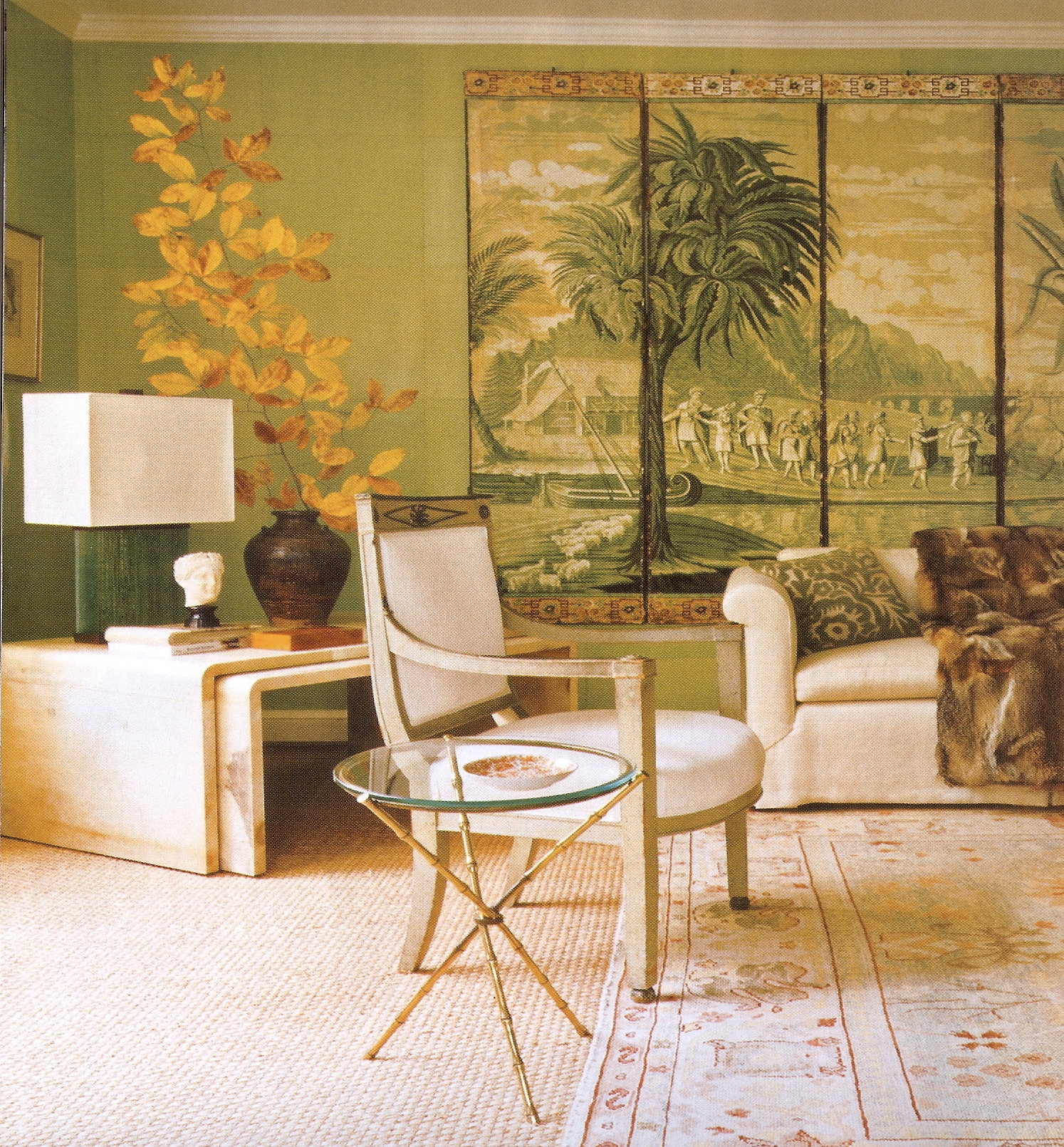 Chicago is a modern city, the skyscraper was born here after all. However, there are times I wonder why we are so traditional here. But is that really a bad thing? Shelter magazines continue to feature mostly modern interiors with clean lines, but the editors are adding a traditional project into the mix lately. Frankly I think it's a good idea since variety is the spice of life. We like more than one kind of cuisine so it's logical to like more than one style of design or decorating.
The image above is a good example of an eclectic interior, it has a lot of classic elements still being used today, but the room is actually quite old. Would you enjoy having a room like this or do you find it dated? I personally like it but recognize we all have different taste. As an interior designer I am your tailor crafting a custom made garment that fits you perfectly and gives you confidence. In this case the garment is your personal space, your club, a hotel room or private office. A well crafted space requires an investment of time and money that will provide enjoyment for years to come.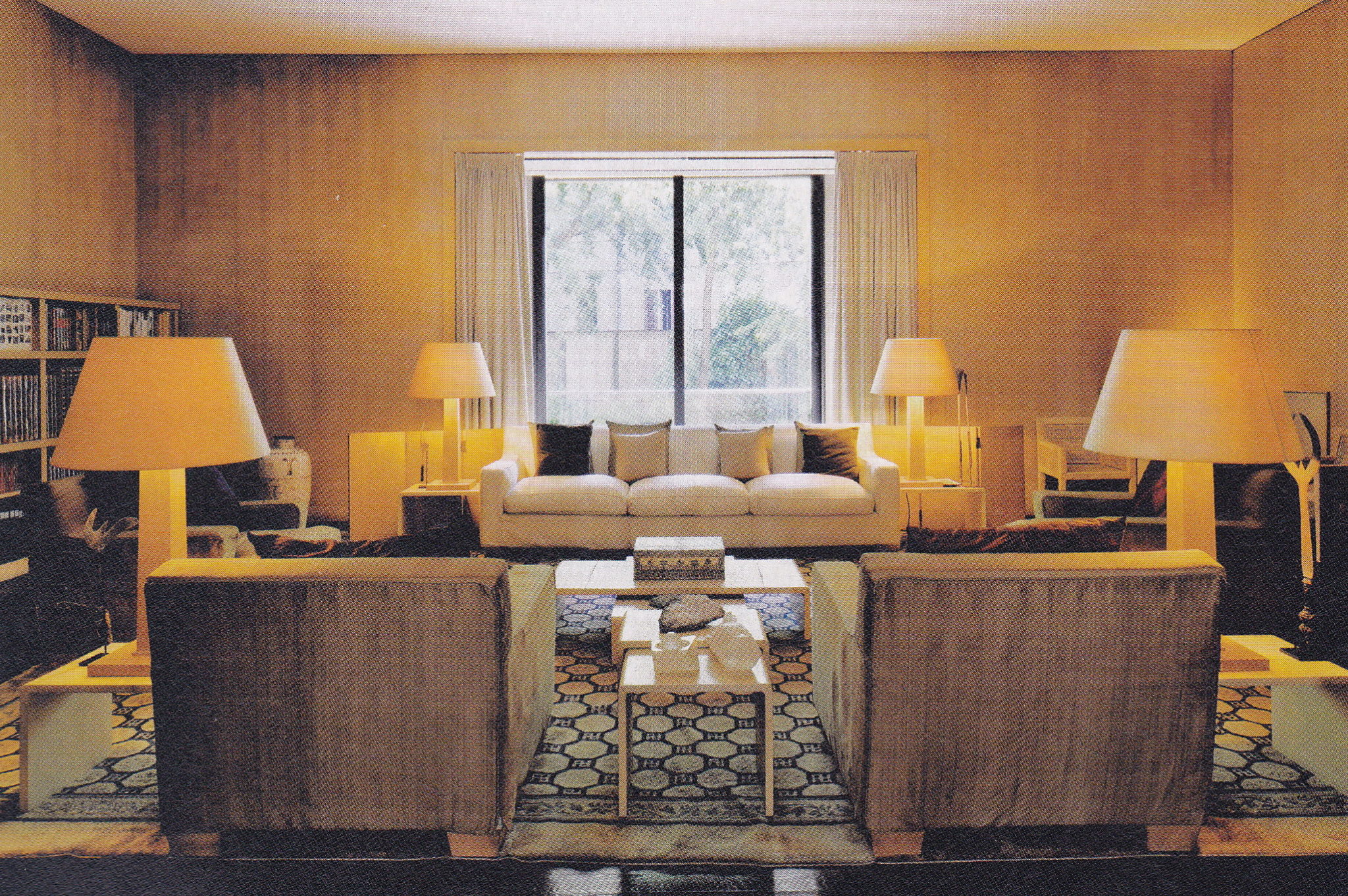 Many consider Jean-Michel Frank (1895-1941) a modern master, he created this interior and many others that are still relevant. This room is ancient by American standards, if you look closely you will notice many design elements we continue to utilize today. The late interior designer Angelo Donghia (1935-1985) was inspired by Frank. Donghia Furniture continues to operate, still producing well-made modern furniture that is coveted by interior designers and our clients.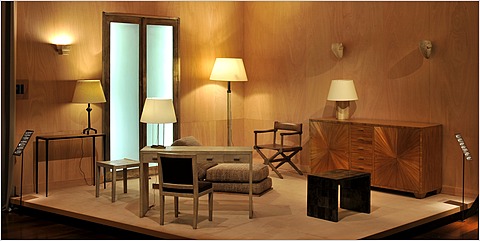 Original Jean-Michel Frank furniture is quite rare, it can bring a king's ransom at auction.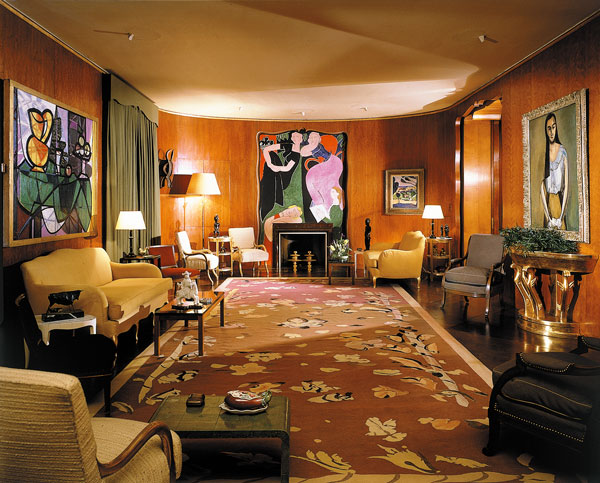 This chic NYC apartment for Nelson & Happy Rockefeller is one of my favorite projects completed by Jean-Michel Frank. This was Frank's last project before his tragic suicide.
A Modern Classic, American Style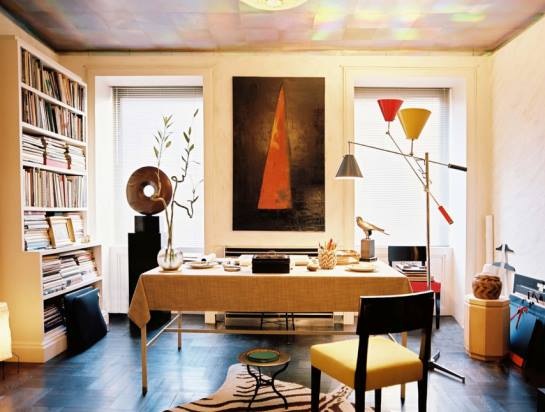 I still love this room after so much time has passed. Have you seen this standing lamp before? It is very popular again. Mid-Century lovers and Mad Men mania may have helped the resurgence.  It was originally created by Van Day Truex (1904-1979). Whenever possible try to buy vintage or an authentic reproduction to ensure the best quality possible. Although the room comes off modern it is quite eclectic too, note the darkly stained floor and tea paper on the ceiling.
A Design Daredevil, British Style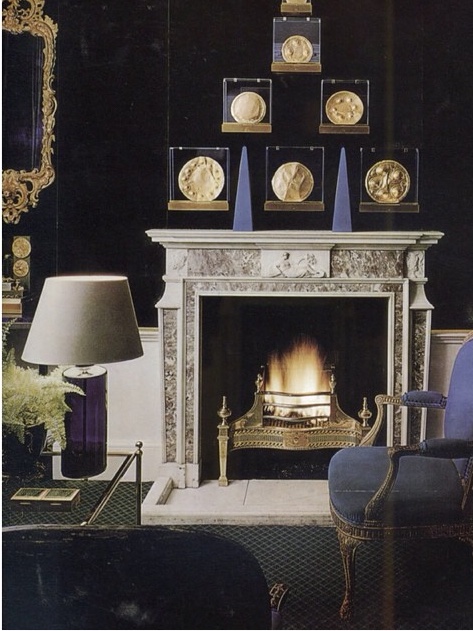 Do you know David Hicks (1929-1998)? He was quite the daring rake of his day, a fan of wearing capes and creating brilliantly colored interiors. The Brits usually love color due to the gloomy rainy weather across the pond. This interior at the Albany in London is quite tame by Hicks standards, but I also love his boldly colored rooms with geometric patterns.  Stark Carpet still produces many of his handsome carpet designs.
Mid-Century Boho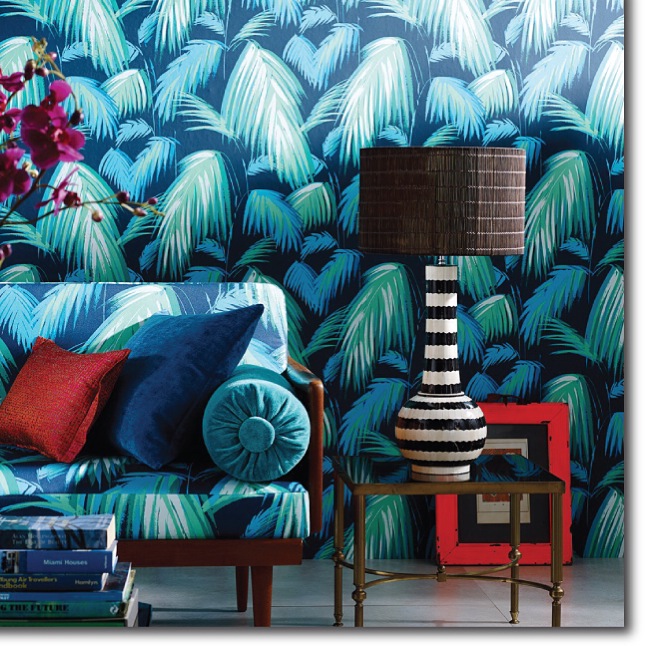 There are many elements of this room that remind me of old rooms from the 1960's, but this is actually a current wallpaper and fabric. I wouldn't hesitate to use it for the right client. How do you feel about it?
The Dean of Decorators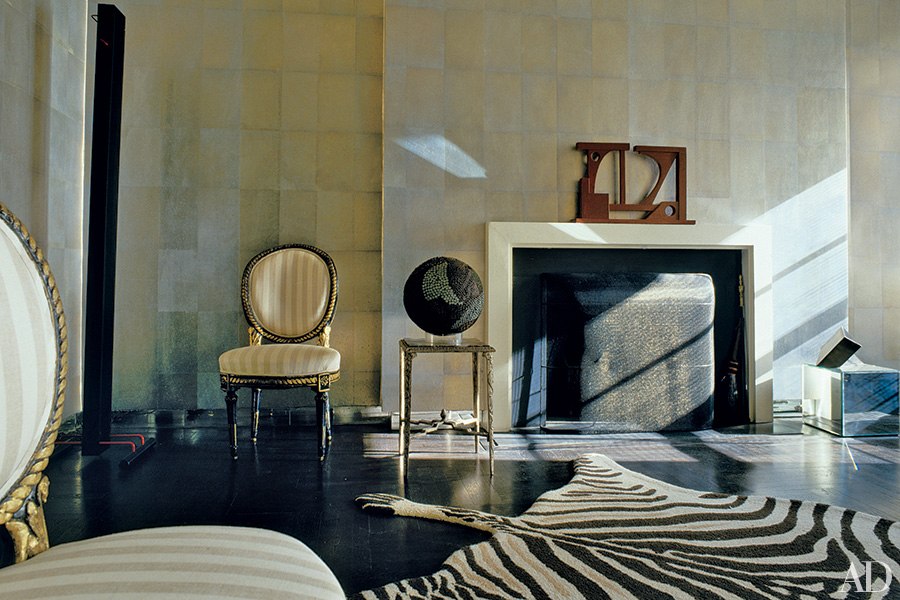 Many considered Albert Hadley (1920-2012) the dean of interior design. Hadley was a southern gentleman from Tennessee, he and the legendary Mrs. Henry Parish II (1910-1994) usually known as Sister Parish were Parish-Hadley interiors, they are responsible for training a stable of interior designers still working today. You were most fortunate to have been mentored by Mrs. Parish or Mr. Hadley. The above photo is one of Hadley's former apartments, note the handsome hooked wool rug in a zebra pattern.
Groovy Baby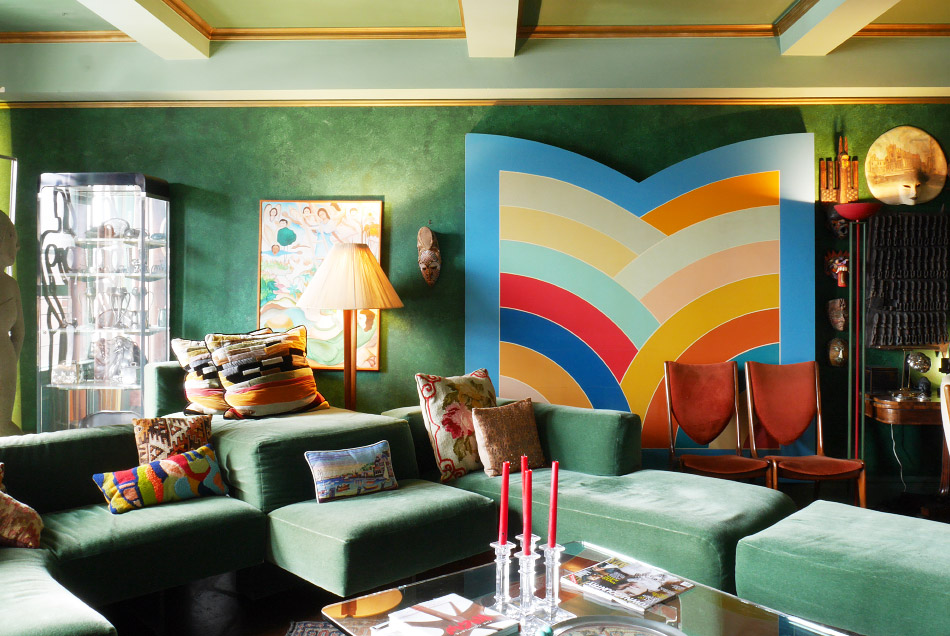 Perhaps some of these rooms are too much for you visually. Take a closer look, some of these photos are recent projects. Are you feeling daring?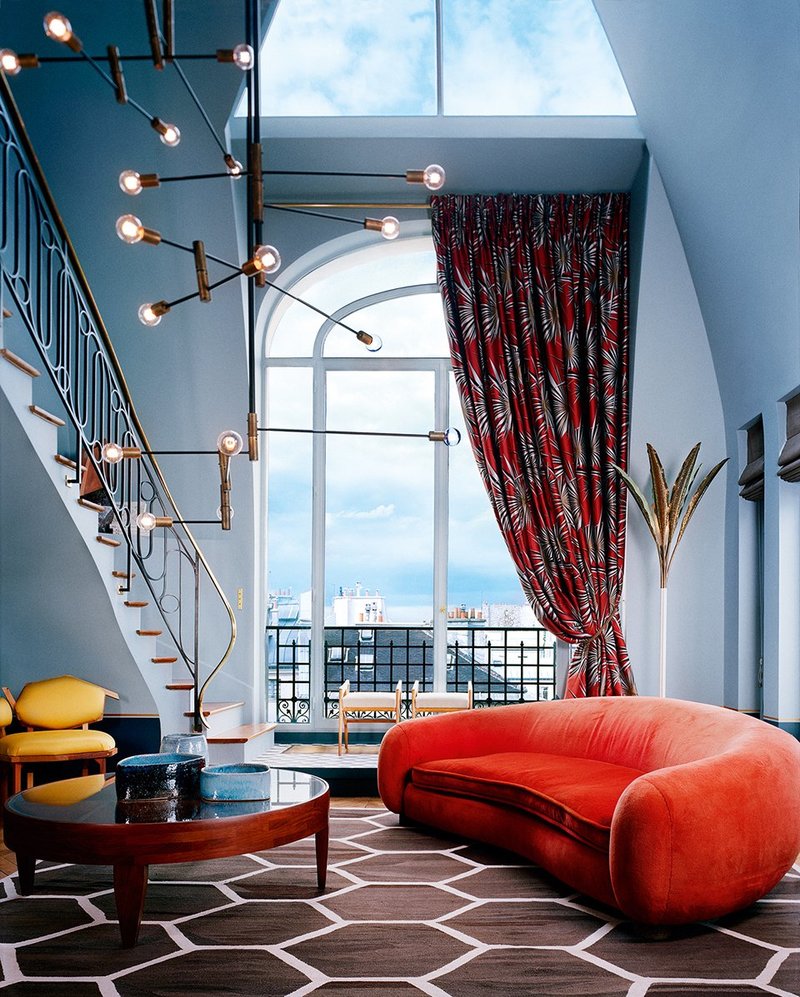 I love the color orange, I'll admit it's not for everyone. What do you think?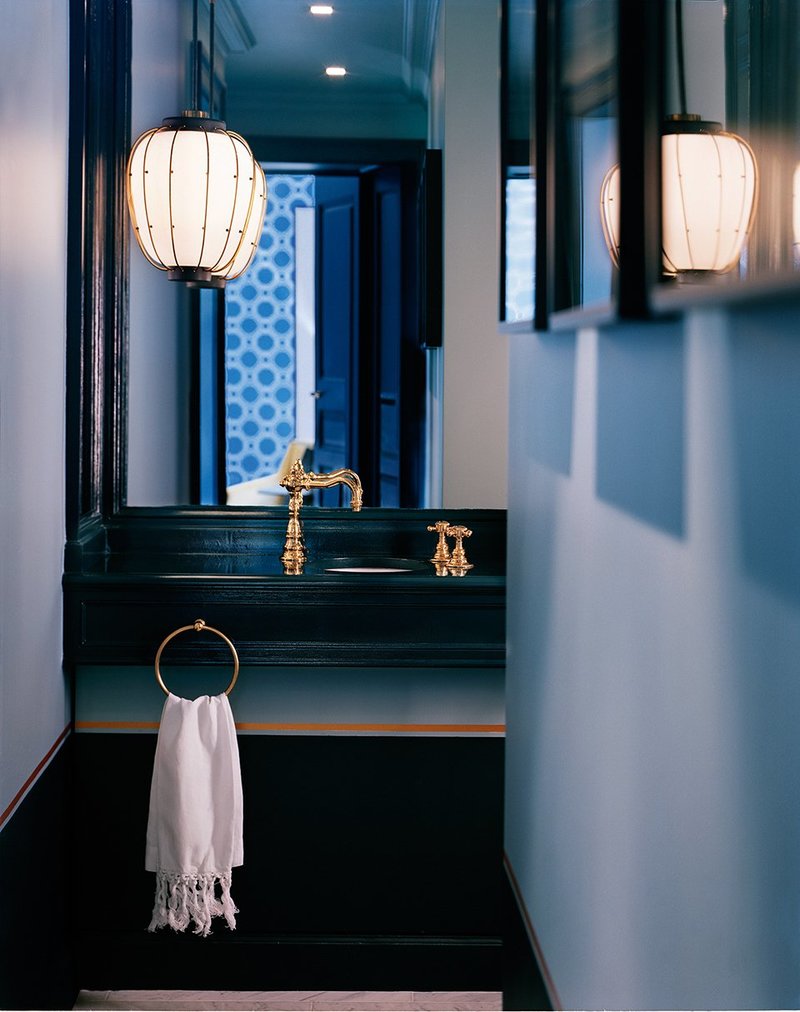 I love the bold use of color in both of these photos. Note the hidden door in the wallpaper.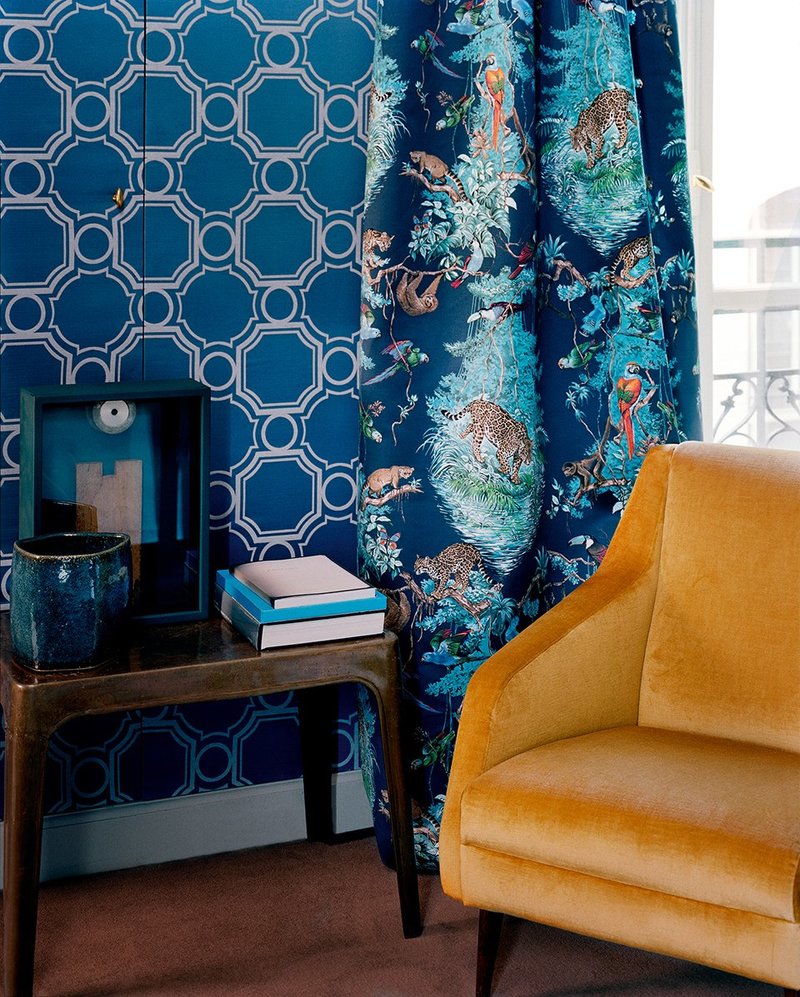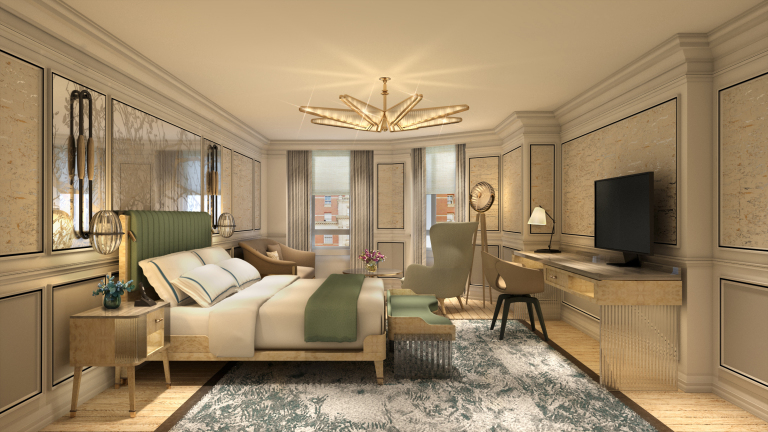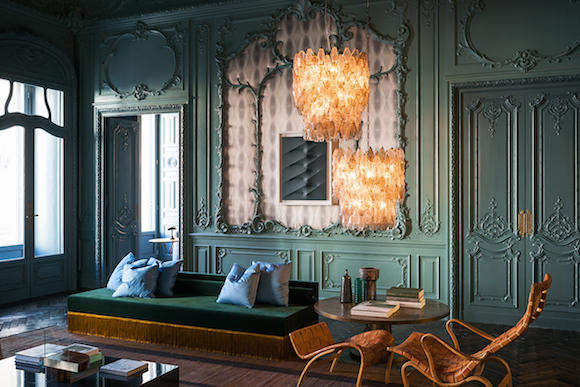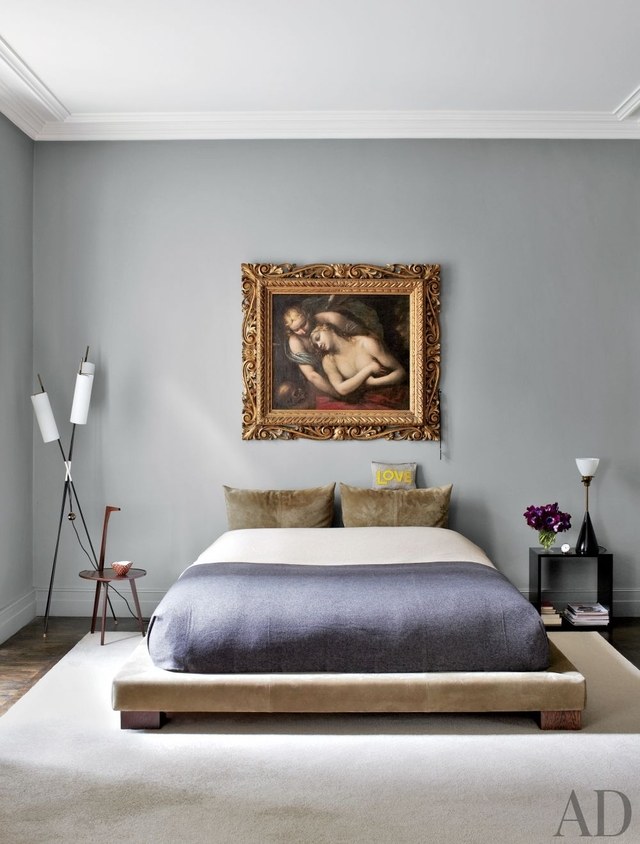 A fantastic juxtaposition in a modern interior.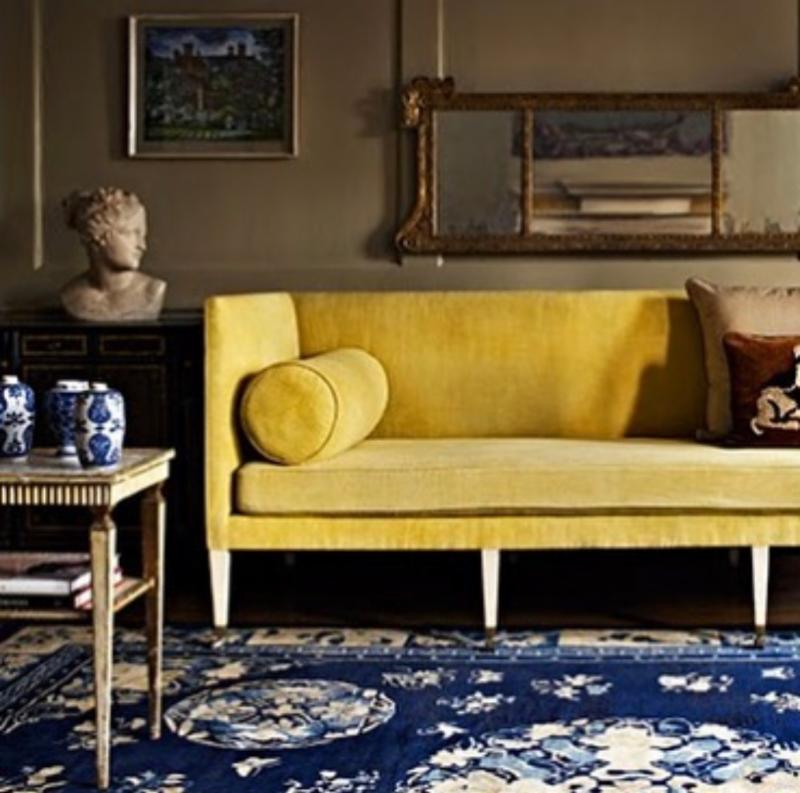 A Design Classic: Blue, White & Yellow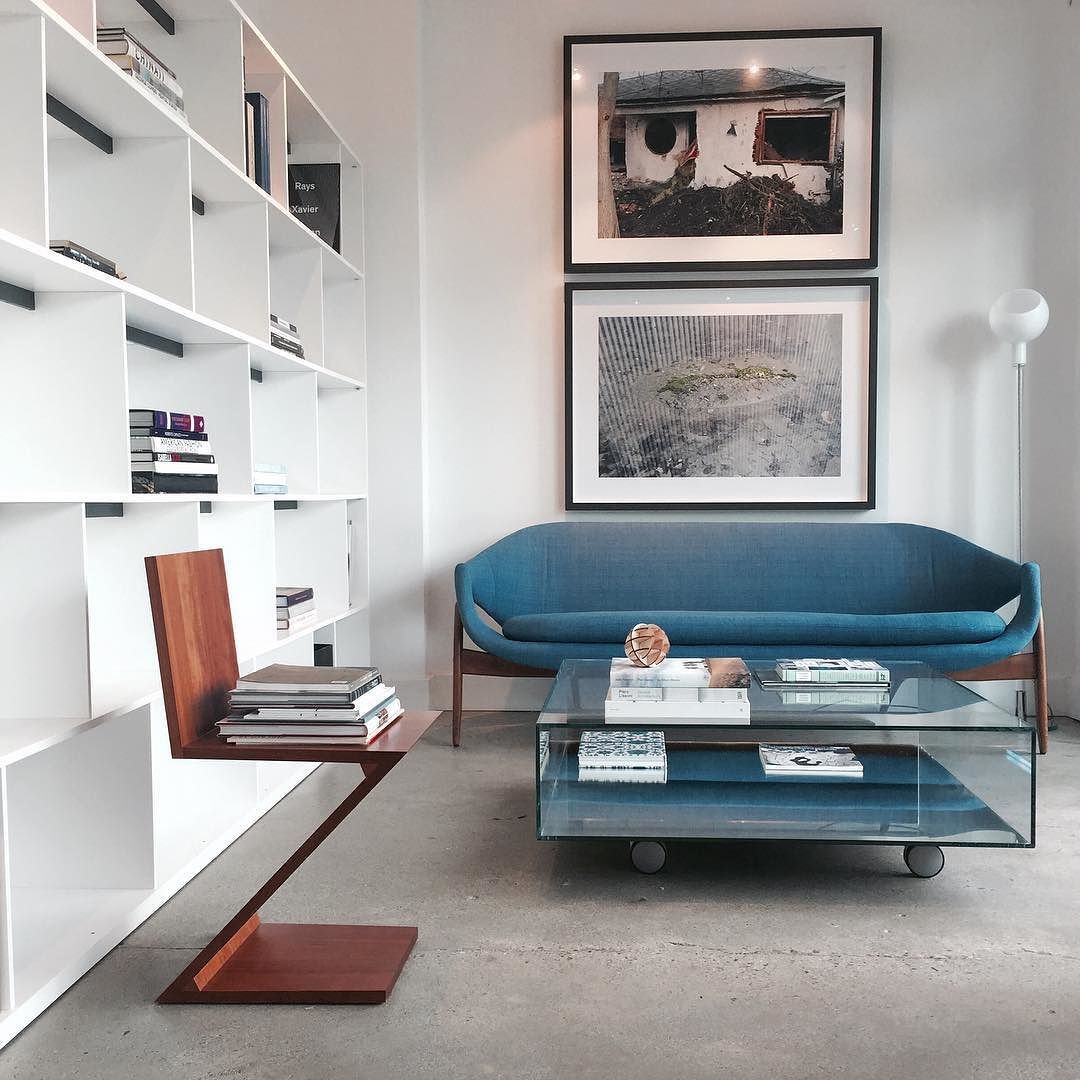 Gerrit Rietveld (1888-1964) created the "Zig Zag" chair, this popular design continues to be produced.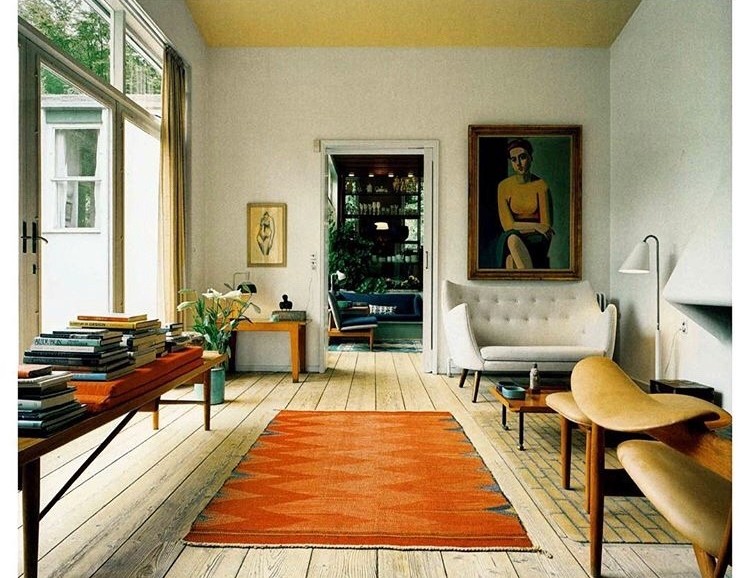 The Scandinavian look remains a favorite of design connoisseurs.
The Great Outdoors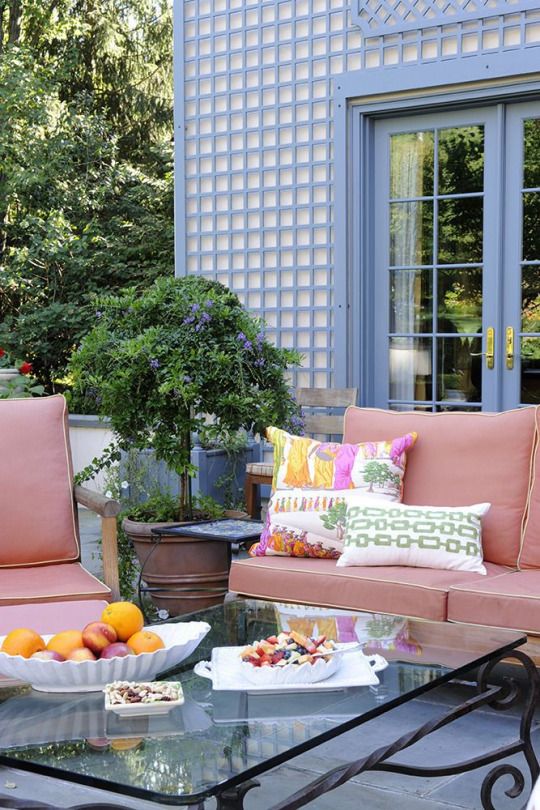 Trelliage is often found on the outside or interior of significant buildings in France. Many say the infamous Else de Wolfe, later known as Lady Mendl (1865-1950) an actress, tastemaker and self taught decorator made this look popular in ballrooms and other notable interior spaces in America. In 1913 Wolfe wrote the influential book The House In Good Taste. The use of this humble material can produce glorious effect when skillfully used.
I strive to write about relevant design topics each month, I hope you found this of interest. If you enjoyed this post you might enjoy this blog which focused on chairs. Perhaps I have inspired you to think about your spaces and whet your inner design appetite. We are just a phone call away to create something uniquely inspired for you.
Happy Decorating!
~Ken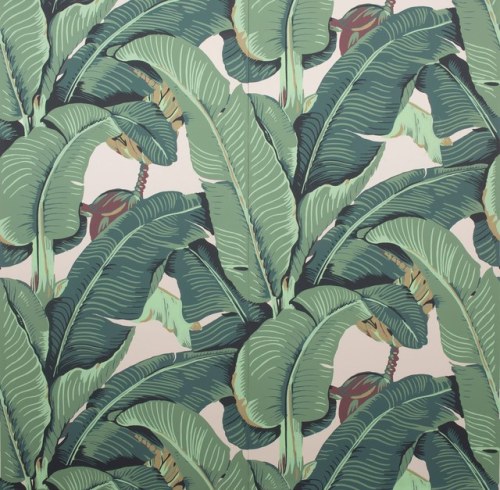 I would be remiss not to mention the famous Banana Leaf Wallpaper that continues to live happily decade after decade since 1942 at the gorgeous pink palace a.k.a. The Beverly Hills Hotel. Young designers think this is new and fresh when they see it for the first time. I understand, I saw it for the first time as a young designer over 30 years ago, it still seems fresh to me!