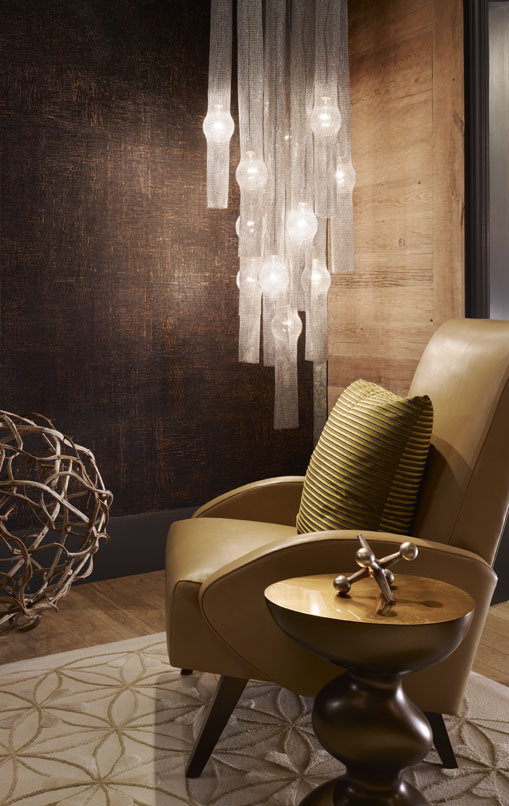 I recently was selected to create the game room at this year's DreamHome located at Chicago's Merchandise Mart. I am thrilled to announce the DreamHome has been extended through 2013 so if you missed walking through- you still have an opportunity.
The game room combines a unique mix of the contemporary and rustic; featuring fantastically innovative wall coverings ranging from salvaged oak, laser cut slate and a textured linen paint treatment. Other items include lush custom seating, luxurious rug, dramatic lighting, and interesting artwork (Gray Malin's iconic cowboys at Prada Marfa). The game room features three flat screens to play multiple games, and old school foosball and backgammon tables.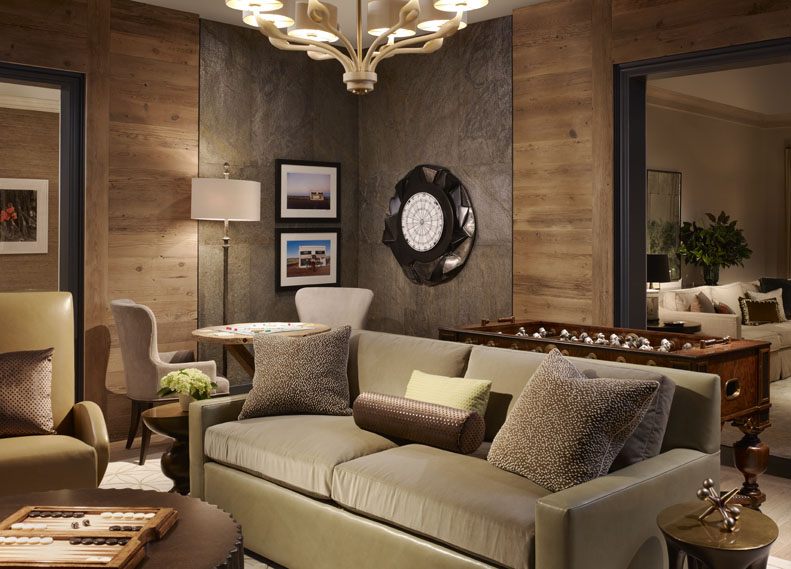 When creating your perfect game room a few things I think you can't live without:
-Media, incorporate flat screens and gaming systems for sports, movies, video games and interactive exercise games
-Hidden camera, great for parties and karaoke
-Table for board games, chess and cards
-Bar storage and display for amazing glassware and decanters
-Coffee table for resting drinks, snacks or board games
-Backgammon set
-Foosball or pool table, or both if you have room!
-Great lighting, adjustable general lighting for parties or tasks along with artistic lighting to create a focal point in the room
-Rich and natural materials
-Comfortable seating
-Art, every room needs great art. Gray Malin's iconic cowboys at Prada Marfa are meant to add a little humor to this particular space, but the options are infinite.
-Dartboard, This particular dartboard was custom made by artist Michael Todd Smith titled "The Dark Night" and is made of reclaimed metal and wood.
Stay tuned for my next post I'll be recommending great holiday gifts for your Game Room the whole family can enjoy!  Please visit the Gray and Walter website for more ideas for your interiors, www.kennethwalter.com
-Kenneth Walter