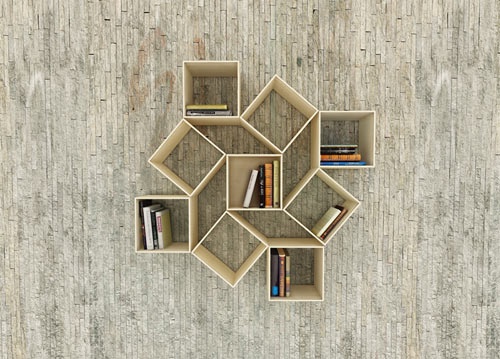 When I meet with new clients, I often ask them to go through books and magazines and mark images that resonate with them.  It opens the lines of communication and visualization.  There are so many great design books to pull inspiration from whether it be color palettes, textures, lighting or window treatments.  Below are a some of my favorites for your next interior design project.
Cheers-Ken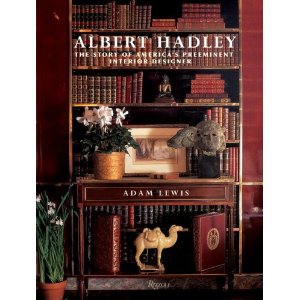 Albert Hadley, by Adam Lewis, Rizzoli
Here, in his own words, is the first complete look at the career of Albert Hadley, legendary interior designer. A lavishly illustrated celebration of more than half a century of stunning interiors work, the book explores Hadley's personal and professional influences. It traces the path of a career that brought him into contact with all of the major figures in twentieth-century design: First as a student and then a professor at Parsons School of Design, where he became a close friend of Billy Baldwin and was by turn a student, friend, and colleague of Van Day Truex; to his working with Eleanor Brown at McMillen, Inc.; to his influential partnership, Parish Hadley, with the venerable Sister Parish; to his current work as the head of Albert Hadley, Inc. Exploring Hadley's design philosophy and process in great detail, the book covers the rooms that made design history, from the magnificent Rosedown Plantation to the Kennedy White House to Mrs. Vincent Astor's library. Enriched with dozens of new and archival images, as well as Hadley's acclaimed sketches and a catalogue raisonné listing every major article and book written about Hadley's work, Albert Hadley is the definitive, exclusive look at one of the most brilliant designers this country has ever seen.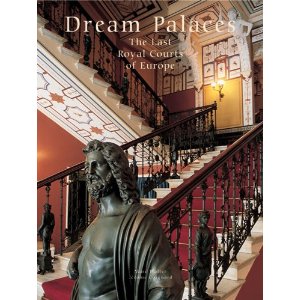 Dream Palaces, by Marc Waler, Jerome Coignard, Vendome Press
Throughout the 19th century, European royalty built extraordinary palaces to which they retreated from their "official" lives in St. Petersburg, Paris, Vienna, and elsewhere. This book offers a panorama of these fantastic estates, where leading architects, craftsmen, muralists, garden designers, and naturalists were employed at enormous expense to create a life of unsurpassed luxury. Many of the palaces are now legendary: Ludwig II's famous Neuschwanstein, which dominates the Bavarian Alps; the "Alexandra Cottage" of Peterhof, the gift of Nicholas I to his wife; the lovely Castle of Miramare built for the ill-fated Archduke Maximilian, the short-lived emperor of Mexico. The palaces are "romantic" in every sense, as creations of their time, and as places suffused with nostalgic memory.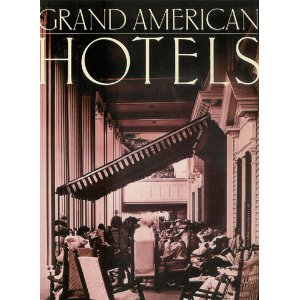 Grand American Hotel, Vendome Press
From Publishers Weekly:
In the preface to this handsome photographic tribute to a former age, architecture critic Paul Goldberger refers to the great hotels of American and certain Canadian cities as popular icons: only the privileged have enjoyed the opulent service and appointments at the Plaza or Waldorf in Manhattan, at Chicago's Drake, the Beverly Hills in L.A. or the Ritz-Carlton in Montreal; nonetheless, these hostelries and the comforts they represent are solid presences in city skylines and the fantasies of the public. Hundreds of color and black-and-white illustrations, selected by photo editor Walter, capture details and wide-angled views of luxurious dining rooms and lobbies; the text by Donzel ( Grand European Hotels ) and Gregory, publisher of Vendome, offers historical overviews of the hotels and references to specific parties and events associated with each. Many of these hotels have been restored and refurbished, yet, as this volume points out, their heyday was closer to the beginning of this century than to the end.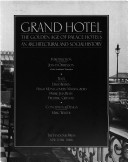 Grand Hotel, Vendome Press
This book is hard to find but it has provided me with years of inspiration.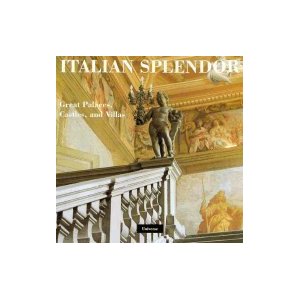 Italian Splendor by Jack Basehart  Rizzoli
The magificent private residences built by the noble families of Italy are unsurpassed in their architectural diversity and artistic grandeur. This luxurious, full-color volume is a photographic journey to 50 of Italy's most beautiful palaces, castles, and villas.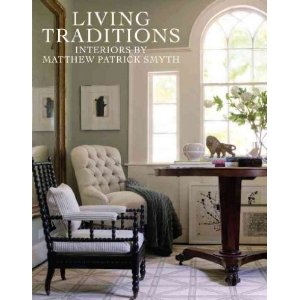 Living Traditions by Matthew Patrick Smyth, Monacelli Press
Classic style and impeccable attention to detail are hallmarks of the work of interior designer Matthew Patrick Smyth. His comfortable, timeless rooms are tailored to fit his clients' personalities and lifestyles, whether they are dynamic young couples with children or cultured art collectors. Smyth masterfully blends contemporary pieces with antiques to endow each space with a sense of solidity and history while maintaining a completely fresh, modern sensibility.
Smyth credits his mentor David Easton for teaching him how to see the intrinsic value of any given piece and to successfully mix furnishings with similar lines, materials, and forms even when they are products of different centuries. Easton also embedded in Smyth a love for travel—leading to the designer's devotion to all things French that permeates his work. Smyth opened his own firm in New York in 1987 and now works with clients around the globe. His designs—characterized by refined, flawless interior architecture—are seen in grand Shelter Island mansions, classically proportioned San Francisco townhouses, and demure Parisian pied-à-terres alike.
In this lavishly illustrated volume, Smyth reveals his own design tips, rules, and approaches to meeting challenges offered by uniquely shaped spaces. He focuses on editing collections to better showcase individual works, the personal nature of color selection, adding—or restoring—historical references, and finishing a space off with glorious, often unexpected fabrics and trims. Over two hundred color photographs showcase a wide variety of styles, from a nature-infused Aspen vacation home to the quintessential Upper East Side apartment to a London flat that smoothly blends its owner's inherited collection of Renaissance art with fine Indian pieces.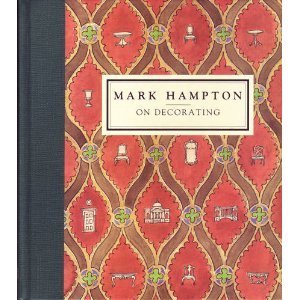 Mark Hampton on Decorating, Random House
From Library Journal:
This is a collection of the monthly columns written by the author over a three-year period for House & Garden, plus additional material written especially for the book. Designed and illustrated by Hampton himself, the book is visually attractive. Unfortunately, the text is little more than a tour of the decorating styles of the rich and famous. The author's knowledge of his field is obvious, and his opinions are informed, but the rather breathless, gushy style that works in a popular magazine column does not carry over well as a serious book. Offering little real substance, the chapters all sound the same.
– Constance Ashmore Fairchild, Univ. of Illinois Lib., Urbana-Champaign
My take on Mark Hampton:
Although this reviewer is well intentioned, I think she is totally missing the point. Mark Hampton was a fantastic artist and designer, his watercolors are worth the price of the book alone. When reading his columns I always felt he had a lot of talent to share with his clients and readers alike. He had a true gift that is illustrated in this book- he educates the reader while telling a story. In many ways I feel his "breathless" method of writing was Mr. Hampton pinching himself for his luck in having such great clients. The book is definitely worth purchasing if you like classic, well articulated traditional design.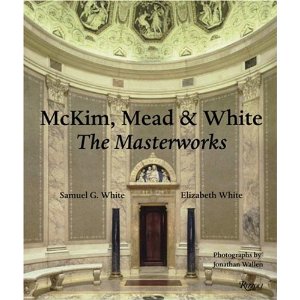 McKim, Mead & White: The Masterworks, by Samuel G. White, Elizabeth White  Rizzoli
McKim, Mead & White rivals Frank Lloyd Wright for the honor of the premier architectural firm in American architecture. During McKim, Mead & White's most creative period (1879-1915), the firm received nearly 1,000 commissions, which include many of the most famous and important buildings ever built in America. Now, following Rizzoli's Houses of McKim, Mead & White, authors Samuel G. White and Elizabeth White here document the great non-residential works of America's greatest classical architects. In lavish color and archival photographs, the book includes the Boston Public Library, Newport Casino, the second Madison Square Garden, the Washington Memorial Arch, the Morgan Library, major works at the 1893 World's Columbian Exposition in Chicago, the campuses of Columbia and Harvard universities, Pennsylvania Station in New York, Bank of Montreal, American Academy in Rome, the Century Association, and the Harvard, Metropolitan, and University clubs in New York, among others. McKim, Mead & White: The Masterworks is certain to stand the test of time as one of the most important publications on American architecture.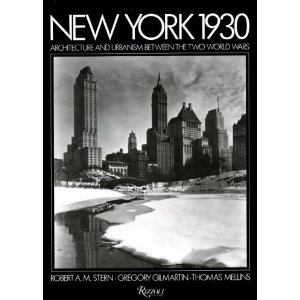 New York 1930 by Stern, Gilmarten, Mellins  Rizzoli
From Library Journal:
This exuberant, lavishly produced volume chronicles the decades between the wars, when New York City was transformed into a mecca for art, entertainment, business, and commerce. The tumultuous period witnessed the contruction of many of the architectural monuments that have come to define New York: the Chrysler Building, the Empire State, Rockefeller Center, and the George Washington Bridge. While focusing on these landmark structures, the authors consider other components of the built environment as well: the public housing projects, highways, parks, and commercial, residential, and entertainment districts. Their delight in their subject is evidenced by the lively text and careful selection of over 600 period photographs and illustrations.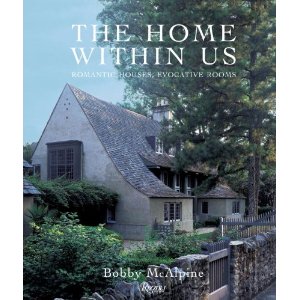 The Home Within Us by Bobby McAlpine  Rizzoli
Architect and designer Bobby McAlpine creates idyllic houses that wed historical precedent with gracious modern living. His distinguished firms, McAlpine Tankersley Architecture and McAlpine Booth & Ferrier Interiors, are renowned nationwide for their talent in designing residences that resonate with nostalgia, fantasy, and a sense of place. Their dwellings—from country and seaside retreats to homes in historic American neighborhoods—offer favorite period styles with a timeless quality. Presented are over twenty houses in a variety of settings that illustrate concepts running throughout their work. Juxtaposing intimate spaces with lofty entertaining areas and combining unexpected materials, such as stone with thatch, are among the hallmarks of these prestigious firms. Examples include a Mediterranean-revival house with sleek factory-sash windows and classical Roman columns, a beach house with a vaulted hallway leading to a light-filled contemporary salon, and an unusual house that blends Scottish vernacular style with modern details. With lush photography capturing the romance of these houses, The Home Within Us is ideal for anyone wishing to be inspired by the poetic design of a romantic home.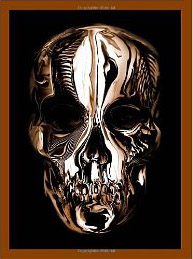 Alexander McQueen Savage Beauty, Metropolitan Museum
Arguably the most influential, imaginative, and provocative designer of his generation, Alexander McQueen both challenged and expanded fashion conventions to express ideas about race, class, sexuality, religion, and the environment.
Alexander McQueen: Savage Beauty examines the full breadth of the designer's career, from the start of his fledgling label to the triumphs of his own world-renowned London house. It features his most iconic and radical designs, revealing how McQueen adapted and combined the fundamentals of Savile Row tailoring, the specialized techniques of haute couture, and technological innovation to achieve his distinctive aesthetic. It also focuses on the highly sophisticated narrative structures underpinning his collections and extravagant runway presentations, with their echoes of avant-garde installation and performance art.
Published to coincide with an exhibition at The Metropolitan Museum of Art organized by The Costume Institute, this stunning book includes a preface by Andrew Bolton; an introduction by Susannah Frankel; an interview by Tim Blanks with Sarah Burton, creative director of the house of Alexander McQueen; illuminating quotes from the designer himself; provocative and captivating new photography by renowned photographer Sølve Sundsbø; and a lenticular cover by Gary James McQueen.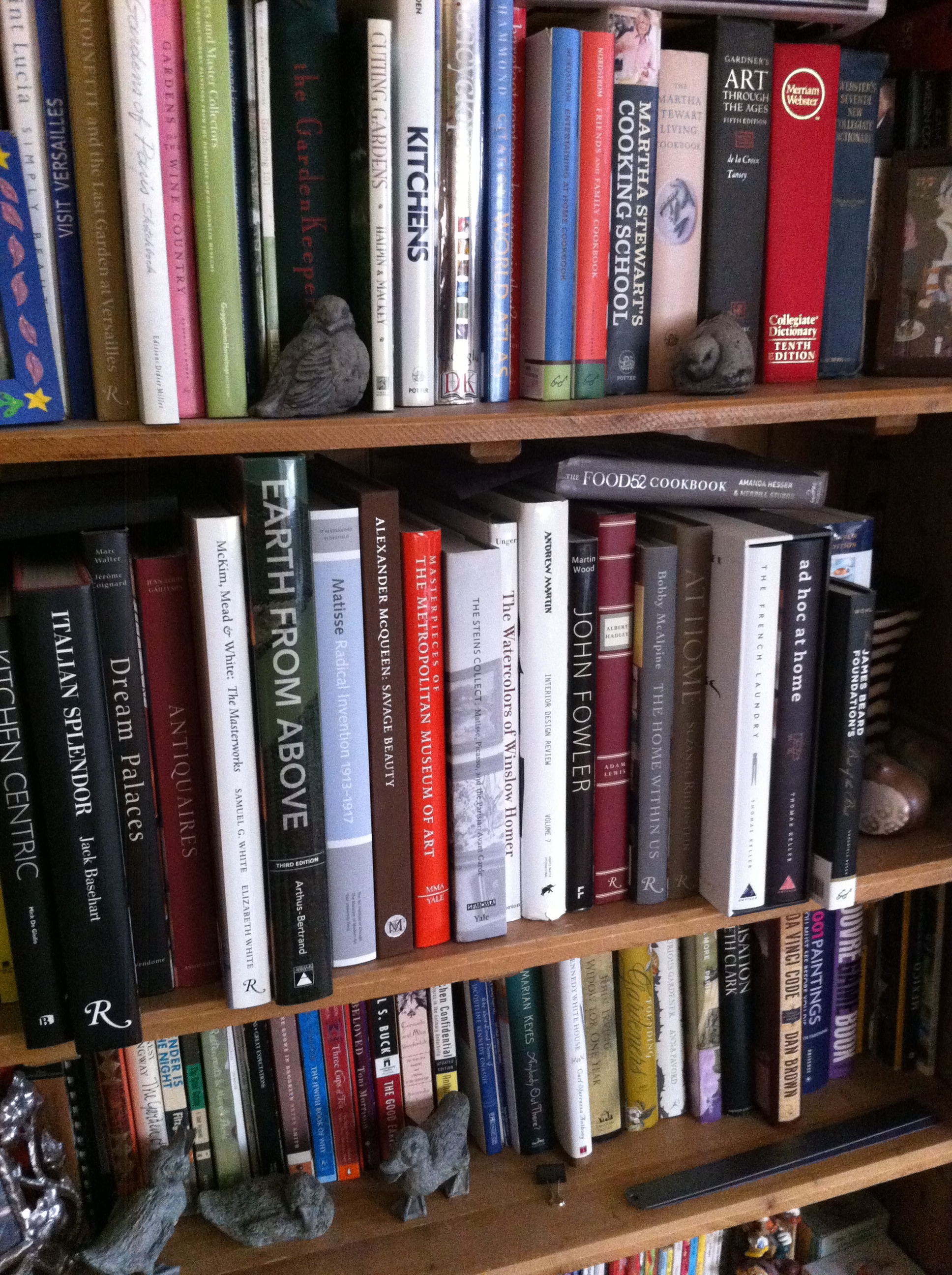 I never tire of design books.  If you have any recommendations to share- I would love to hear from you.  Have a wonderful week!