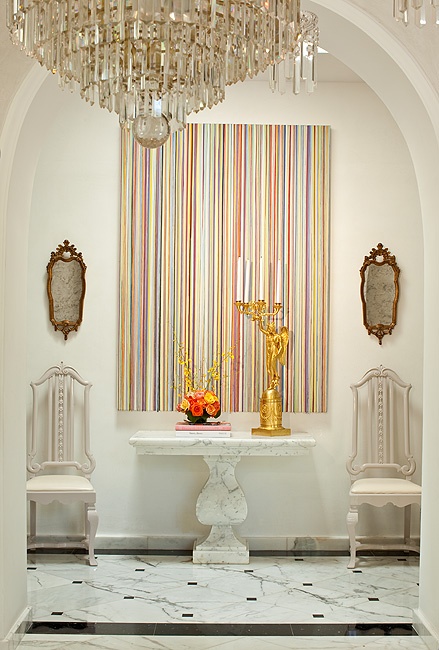 I just recently went to Second City and saw Jeff Garlin from Curb Your Enthusiasm.  One of his schticks included a reference to "A little dab will do you".  As a Chicago interior designer, my clients sometimes think going bold everywhere is scary.  If you are attracted to bold patterns and colors try using them as an accent against a neutral backdrop.  I promise, a little dab will do you!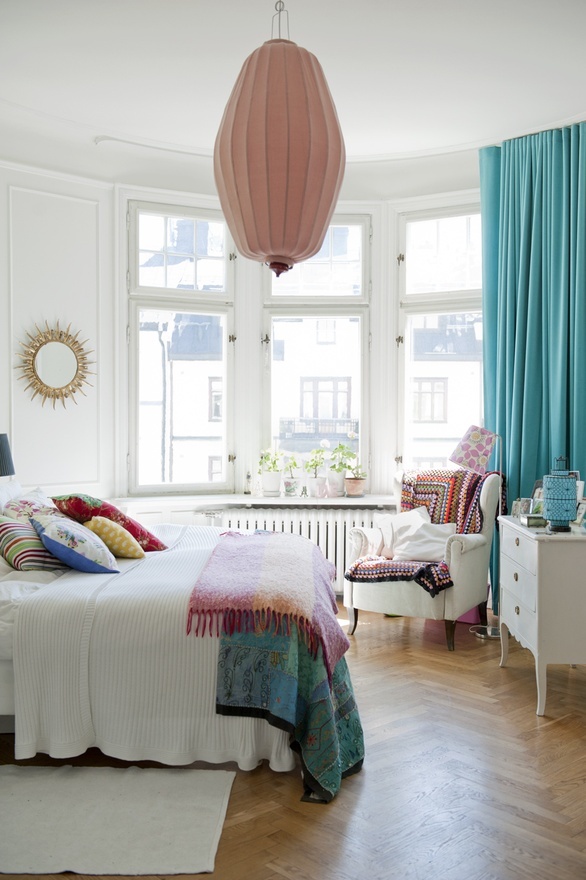 Adding colorful textiles against a white background is an easy way to bring in color.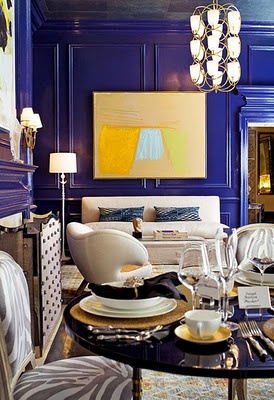 Keeping the furnishings neutral and painting the walls a bright color is another great idea.  This cobalt blue wall is a high gloss lacquer which really gives the space a punch.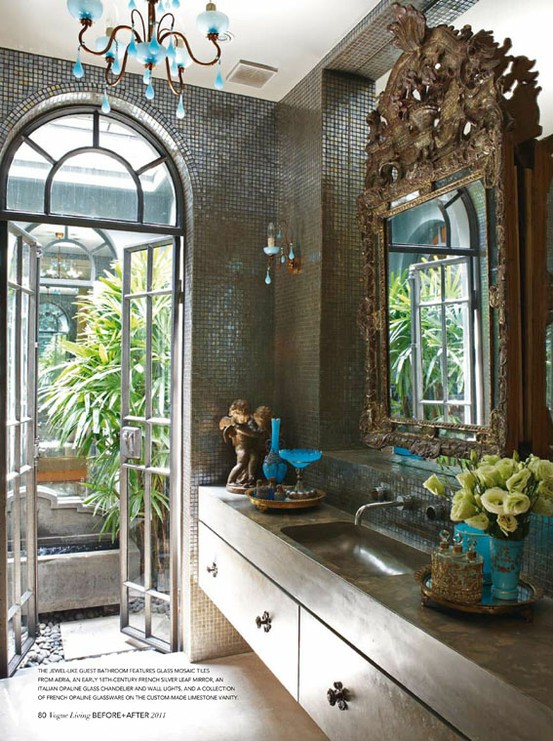 Incorporating bright accessories is a great way to turn any powder room from drab to fab.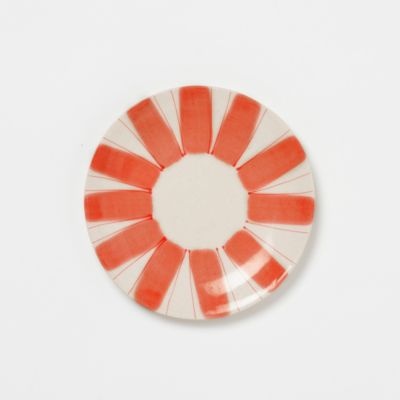 Try adding bright dinnerware in an all white kitchen.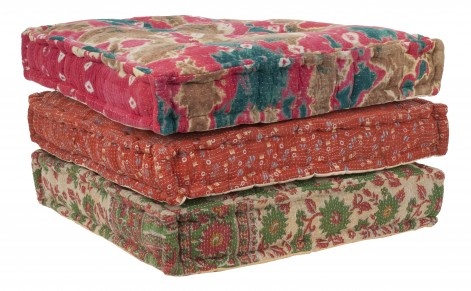 These floor pillows are a great accent and can be used as additional seating.  Kantha Floor Cushions are available at Jayson Home.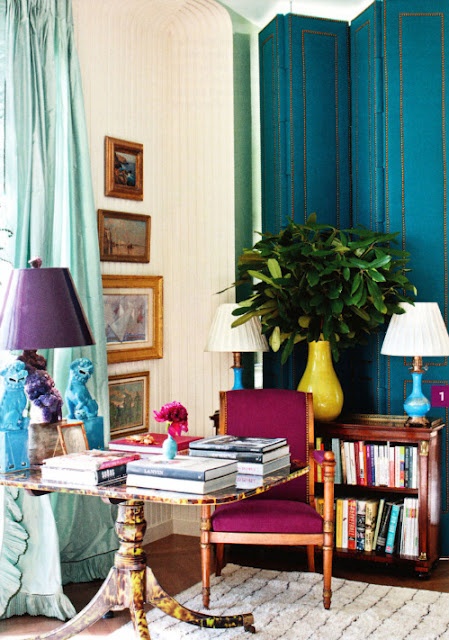 A bright colored screen can be a great accent.  This one has a great nailhead trim detail.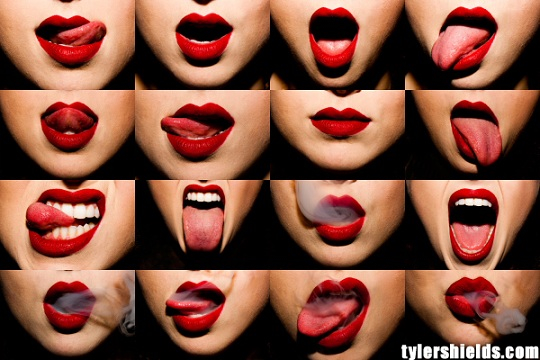 Artwork is a great way to add color to your space.  This is by one of my favorite artists- Tyler Shields.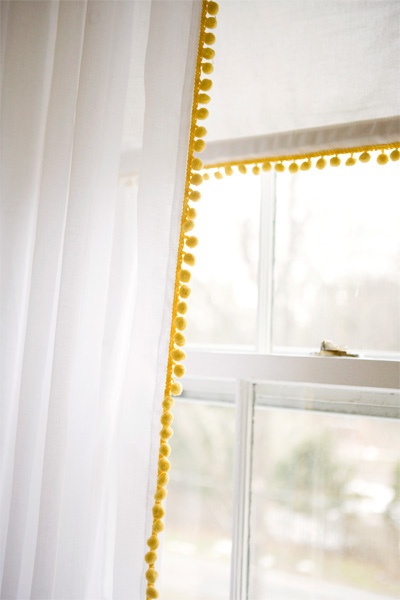 When I was growing up, my sister's room was pink and green.  She had drapery treatments that were green and white polka dot with a fuchsia pom pom trim.  Here's a take on that, but much more subtle!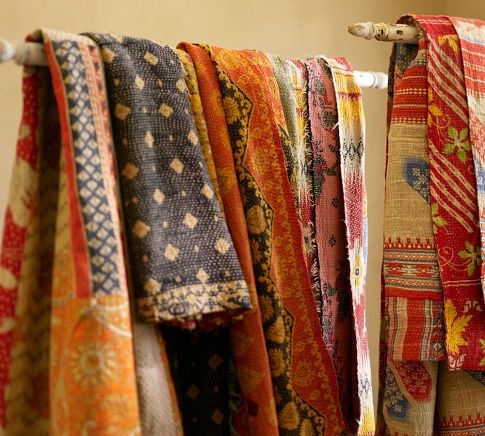 A great addition to the end of a bed.  Authentic Kantha Throw from Pottery Barn.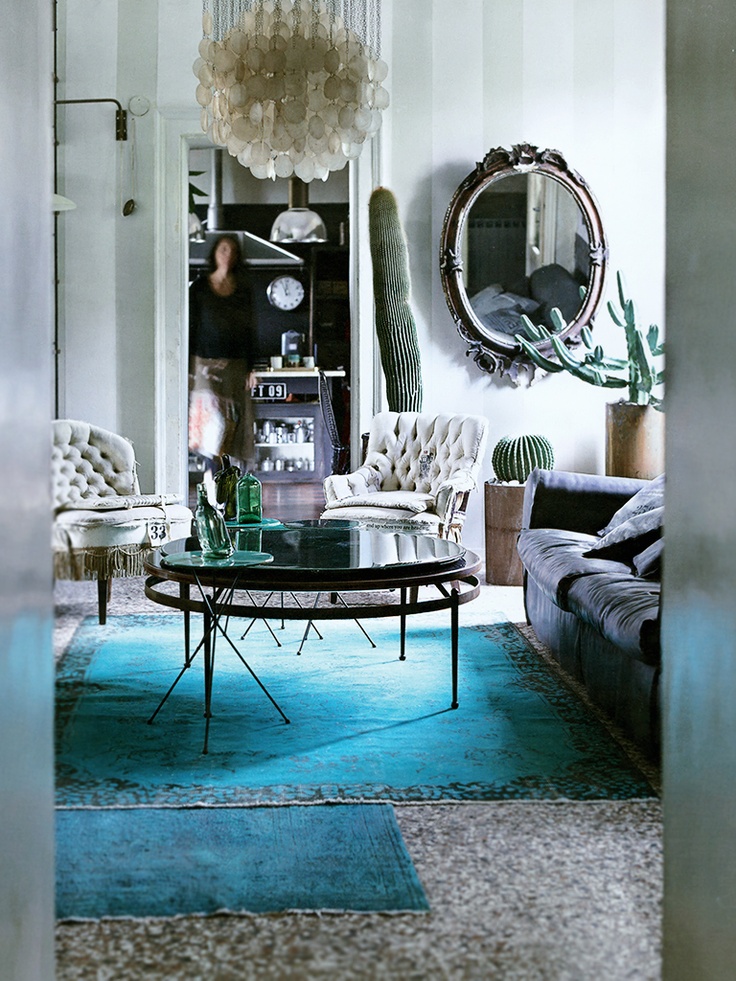 I love these bright layered rugs.  One of my favorite spots for amazing rugs is Organic Looms.  Their overdyed rugs have  just the right amount of pop.
This color combination is unusual and very handsome.  The aubergine acts as a neutral.  The peacock blue really pops against it.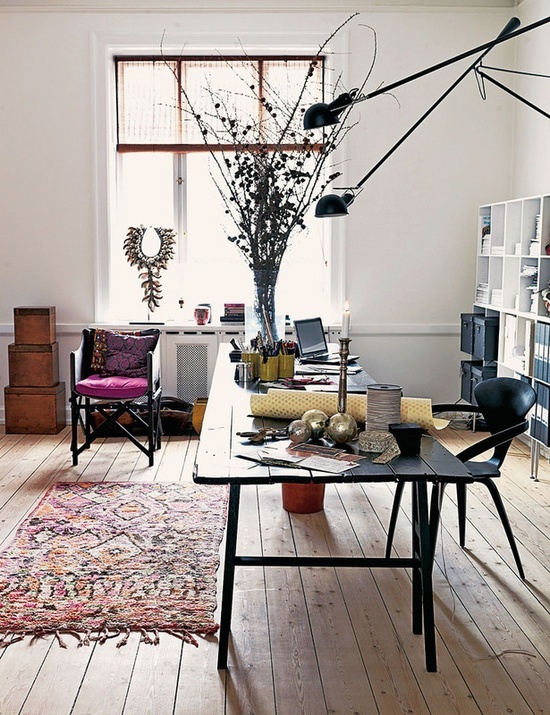 Fuchsia looks great with black, white and warm brown tones.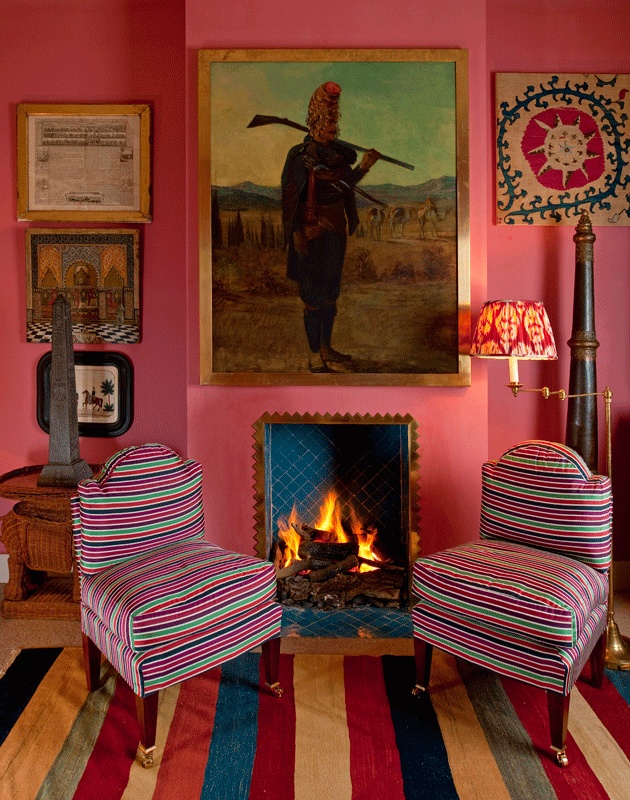 A little more than a pop of color, not for the faint at heart.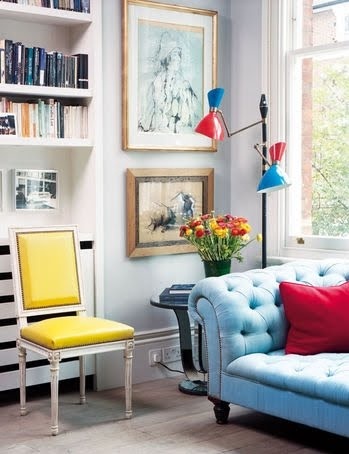 Here's a simple twist on a primary color palette.  The powder blue gives this room an unexpected element paired with yellow and red.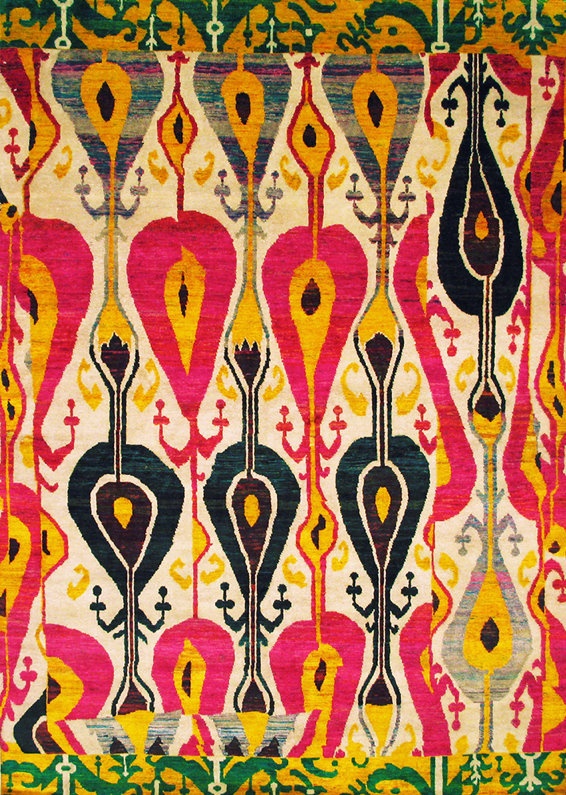 Global prints can be a great way to bring in color.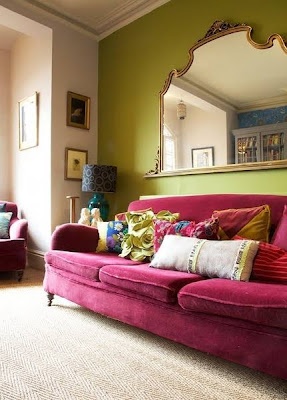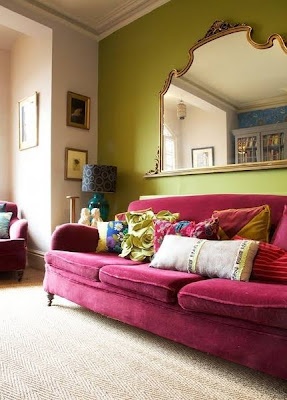 Fuchsia and olive green, another unusual and interesting color palette.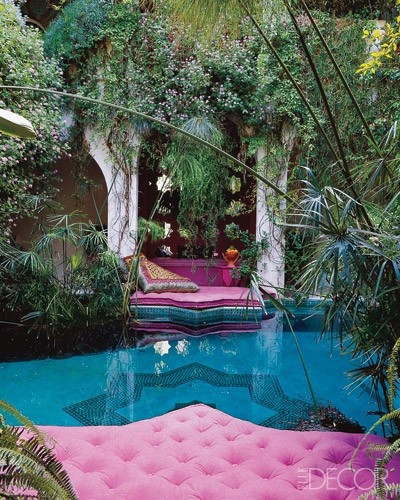 A stunning outdoor space featured in one of my favorite publications, Elle Decor.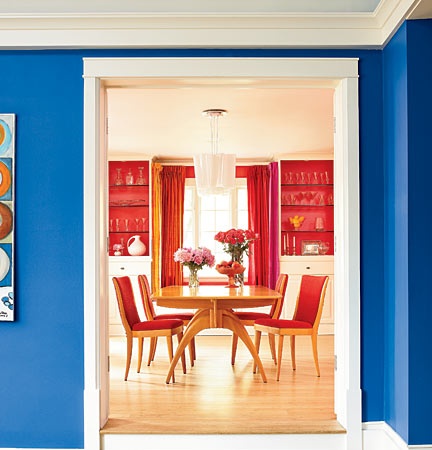 Blue and orange are amazing together!
A very subtle pop of Pantone's color of the year, emerald green.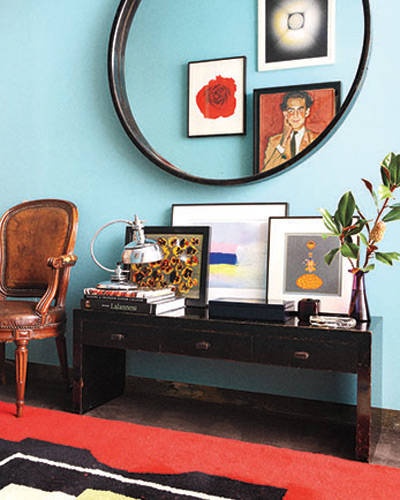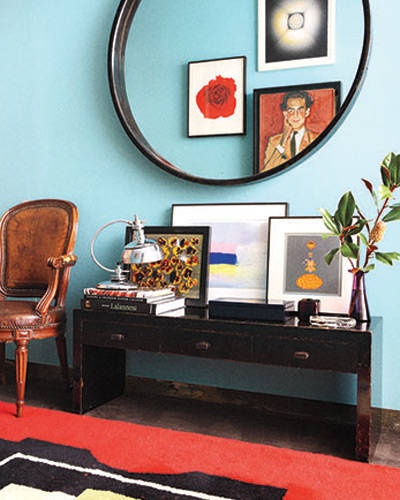 Another take on orange and blue.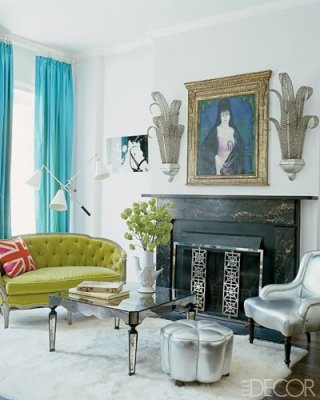 Elle Decor's take on a pop of color in this deco inspired living room.  I love the subtle mix of silver and gold.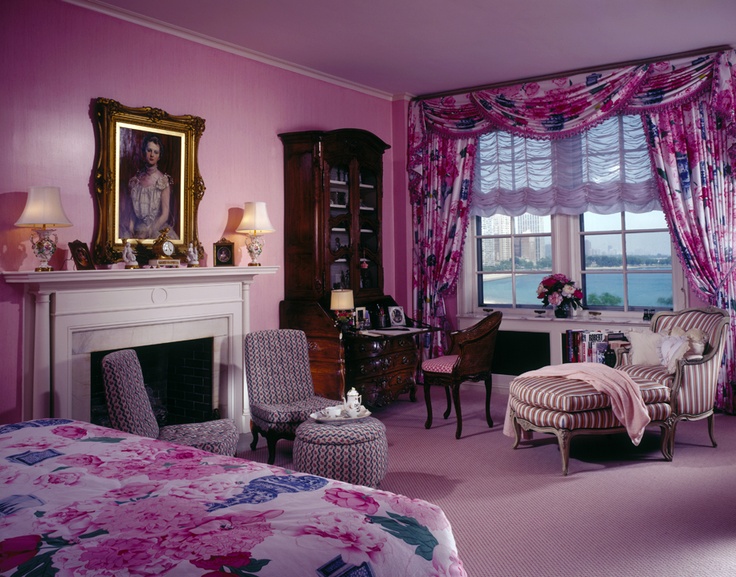 A client's bedroom I designed. She loves pink!
The peacock blue really pops against the dark walls and floors.
Such a beautifully subtle palette which goes to show that even a soft pastel lavender can be a pop of color against a neutral background.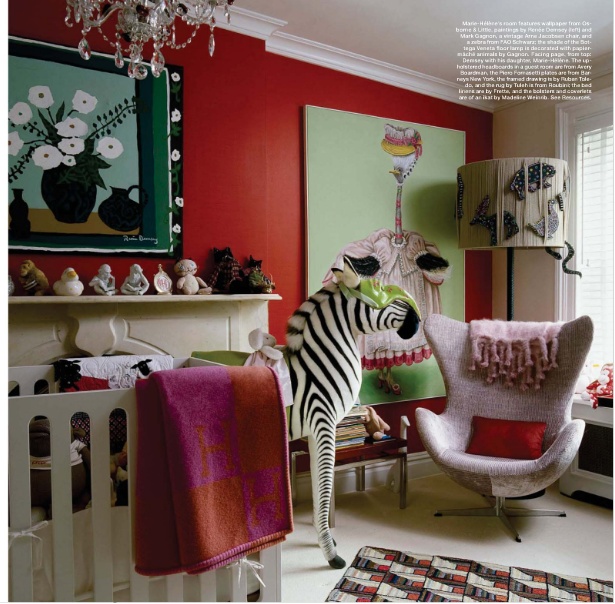 A prefect place to use a whimsical palette is in a baby's room.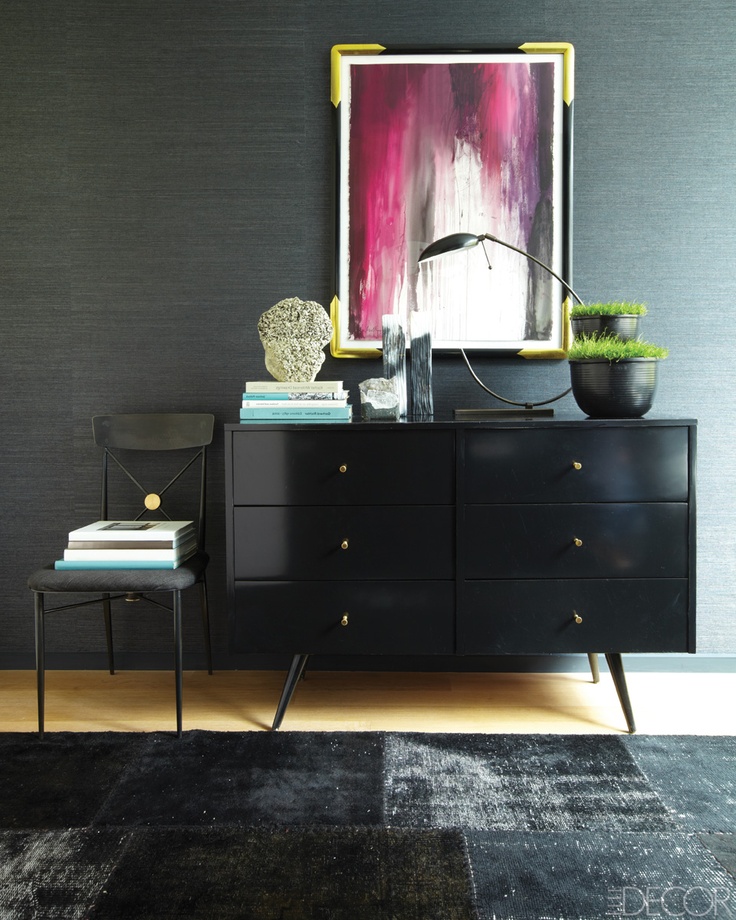 The artwork and framing make this vignette a rare beauty.
Hope you enjoyed our post!  Comments are always welcome!  Please visit the Gray and Walter website for more ideas for your interiors, www.kennethwalter.com
Cheers,
Kenneth Walter